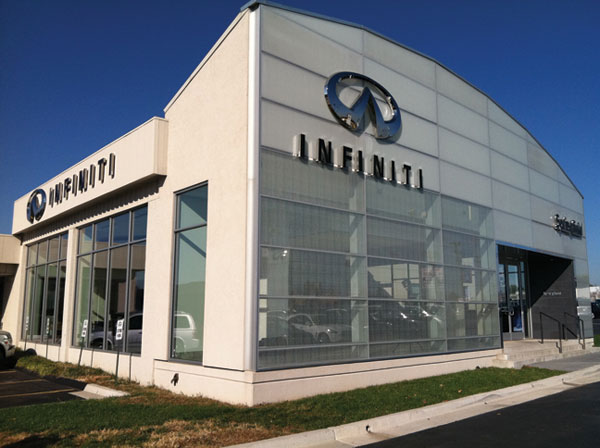 When our Springfield INFINITI dealership opened in the fall of 2006, it quickly became one of the area's leading purveyors of luxury cars, but it wasn't just our lineup of chic coupes, sedans, convertibles and SUVs that got people through the door. More importantly than this, shoppers came and continue to come to us because of our reputation for providing exceptional, red-carpet treatment.
Since the very start, we've put the customer experience first. Locals in the market for new or used INFINITI cars for sale in Springfield will find what they're looking for at our dealership, but they'll also be happy to get a lot more out of the experience than just a car. We don't prescribe to the idea of pushing people into making quick purchases; this wouldn't be a benefit for us or our patrons and would only mar our customer relationships. Instead, we endeavor to build lifelong bonds with our patrons and really enjoy taking the time to get to know people. This gives us a better understanding of their needs and makes it easier for us to meet those needs throughout their car-buying ventures now and in the future.
So whether you're shopping for pre-owned or new INFINITI cars for sale in Springfield, visit us if you want more than a typical cursory dealership experience in Missouri. We offer INFINITI financing and lease offers, and also offer car repair in Springfield to assist you with vehicle upkeep, so you can get the most out of your new investment and keep it in good health for many years to come.
Throughout the years, our Springfield INFINITI dealership has seen unprecedented growth and we believe that this is the result of demanding and ensuring high standards for customer satisfaction, product knowledge, effective inventory management, quality service and community involvement. Again, while we have an exquisite collection of new 2017 Q50s, Q70s and other popular models, as well as lots of used INFINITI cars for sale, it's not just about the cars: it's about you!
You'll also have an enriching buying experience and exclusive access to INFINITI accessories, OEM INFINITI parts, body shop technicians and the support of our INFINITI-trained mechanics, who've earned our repair center a national top 10 ranking. We're sure you'll find what you're looking for when you shop with us - whether it be new INFINITI cars for sale, vehicle repair, parts or first-class customer service. Stop by 3625 S. Campbell Ave. in Springfield, Missouri, and see what a luxury experience truly feels like.
Beyond selling cars and servicing the automobiles of thousands of customers each year, our Springfield INFINITI dealership supports local organizations and events. We've been the presenting sponsor of The Zo, a charity golf tournament that was created by the University of Missouri Tigers football program and the Kansas City Chiefs to help sponsor the Children's Miracle Network. We've also had fun participating in the American Cancer Society's Relay for Life along with other local events and are proud to provide financial support for many worthy local organizations. To learn more, stop by and talk to any of our friendly associates or managers!